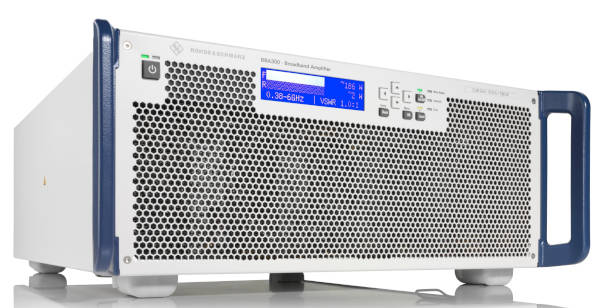 The all-new BBA300-CDE "provides a single amplifier that eliminates the need to switch instruments or bands during a test," according to R&S.
A second model, BBA300-DE, operates from 1GHz to 6GHz. There are also 15, 25 and 50W models.
Noise power density can be as low as -110dBm/Hz, max gain noise figure is 10dB, and harmonics at P1dB output are -20 dBc or better.
"Narrowband CW signals, signals with simple AM, FM, PM or φM modulation, and broadband, complex OFDM signals, for example with 200MHz bandwidth, can be amplified," according to the company. "The two amplifier series support the GSM, LTE, 5G and GPRS mobile communications frequencies, and the frequencies for the WLAN, Bluetooth and Zigbee wireless standards."
Full RF power is available up to a VSWR of 6:1 VSWR.
There is an optional 10in touch screen (BBA-B200), and remote operaion is possible via a web GUI.
Via an Ethernet interface, test sequences can be automated using remote control SCPI commands –
SNMP protocol is optionally enabled.
Size including fans, handles and feet is 430 x 196 x 580mm for the desktop model – there is also a rack-mount version.
Applications are foreseen in EMC test centres, component design, product design and product validation.