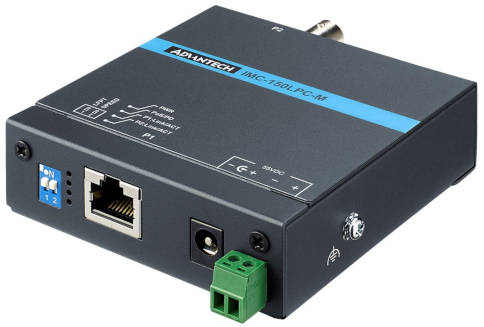 Advantech might have just the thing for you, with its IMC-150LPC PoE (power-over-Ethernet) extender.
"This device uses extant coaxial cables and and makes the IMC-150LPC an excellent choice for industrial and rail network infrastructure upgrade projects with limited power and network resources," according to the company. Its "capabilities are buttressed by an LFPT mechanism that augments transmission quality."
LFPT is 'link fault pass through', a troubleshooting feature designed for media converters, available when a two of the devices are used, one at each end of the link – there are actually two parts: EKI-150LPC-M (master) and EKI-150LPC-R (remote).
When enabled, LFPT serves to prevent data loss by taking action during link failure incidents, and will pass a link fault through the device at each segment. "For, example if the link fails on one IMC-150PLC, the other IMC-150LPC will force the link down on its link partner and avoid data loss," said Advantech.
Up to 100Mbit/s is possible plus >15.4W of power – the company sees it being used with IP cameras.
Remote PD power on-off is supported by disabling/enabling port via management switch.
Operation is specified over -40 to 75°C and it is EN50121-4 EMC certified.