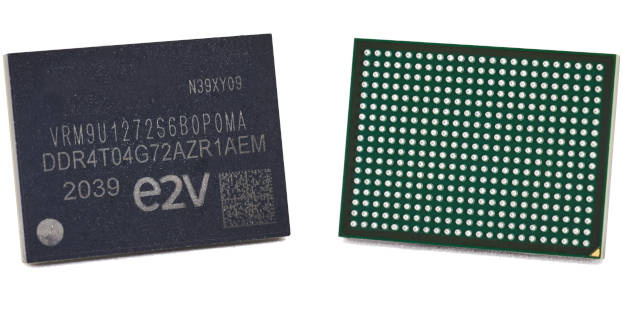 The device, called DDR4T04G72, is a 15 x 20 x 1.92mm multi-chip module that can operate at 2.4Gtransfer/s. Its bus assigns 64bits to data and an additional 8bits to error correction.
The company sees it being used with its own Qormino processors, and the memories are compatible with "the vast majority of processors, SoCs and FPGAs from other vendors", it said.
Single event latch-up (SEL) threshold is >60MeV.cm2/mg, and single event upset (SEU) and single event function interrupt (SEFI) also exceeds 60MeV.cm2/mg. "And they have demonstrated resilience to 100krad total ionising dose," added Teledyne.
Two temperature ranges are available: -40 to 105°C, or -55 to 125°C, and qualification up to NASA Level 1 (based on NASA EEE-INST-002 – section M4 – PEMs) is possible.
"The space industry is presented with an assured supply of compact, easy to interface memories that raise the performance benchmark," said company business development manager Thomas Guillemain. "We are making great headway on the next stage of our roadmap, with other generations of even higher capacity devices currently in the pipeline."